Some of the amazing clients I worked for
L'Oreal Professionnel – O'Neill – Bayer SA-NV – The Shake Company – VIP Lounge – Bonsoir – Beachland Festival – Millionair Fair – Art Group Music – Sanoma – Exclusief – Quetzal De Chocoladebar – Uninvited – Tranceaddict – Tribu-te – Eccentric – Glitterati – Next-ICT – Mr. Boo – Changes IBG – Matrix 
…. and many more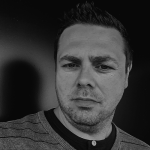 The man behind the camera
From a young age I was attracted to photography and it never stopped growing on me. Having been an amateur photographer for many years, I started working for event and nightlife websites on a voluntary basis. Covering many shows, concerts and events, it allowed me to gain experience and built an extensive contact network.
In 2010 I took a leap of faith and turned my hobby into a living: Morty Photography was born!
Now a decade later, having worked with and for some amazing people and companies, I can state that photography is here to stay! And I cannot wait what the future will bring… 
For those who might wonder:
Morty is actually a nickname, given to me by friends back in the '90s.
Great Photographer! Keep up the good work
Thanks for the nice work!
Zeer aangename fotograaf met leuke en frisse ideeën. Heeft er ook helemaal geen problemen mee om uw inbreng mee in de foto's te verwerken. Oog voor detail en maakt prachtige foto's. Een echte aanrader!!!
Een fotograaf die je op je gemak stelt en de meest prachtige foto's trekt! Iemand die luistert naar al je ideeën en wensen! Een echte aanrader!
Bedankt voor de prachtige foto's waar ik het na 5 jaar (!) nog steeds over heb
Morty, you are an amazing photographer!
Professionele fotograaf. Trendy ideeën en mooie afwerkingen. En ook nog een toffe kerel! Het was een leuke fotosessie.